Glamping (glamorous camping) has become one of my favorite things to do since our first glamping experience at Antigua Guatemala last summer. We went to Los Angeles for 4 days, and I wanted so badly to squeeze in our itinerary a mini road trip and drive through the amazing views of highway one. It happened to be Cristian's birthday, so we celebrated his birthday Glamping at Flying Flags Resort at Buellton California (three and half hours away from Los Angeles).
Glamping at Flying Flags Resort
When we arrived we were welcome with warm chocolate chip cookies ( yes, my 2 year old daughter already felt in heaven). They offer unique accommodations like airstreams, cottages, luxury safari tents and you can also bring your own RV or tent. Each one has a designated area but all of them are in the same property.
We stayed at the tent number 2 "Kruger" in the Safari Village. Safari Village has around 6 or 8 tents can't remember exactly. Mia quickly find her ride for the day, from this day she got obsessed with wagons.
The design, decor and the details were inspired in Africa. As soon as we arrived we knew we were not in an average camping site, I knew I was going to regret just staying one night.

The tents are really spacious and comfortable. They have air conditioning, really comfy beds, a big couch, mini fridge, coffee maker, basic utensils, tv, cable and wifi.
The tents have their own deck with outdoor cooking station. I must said that every piece of furniture I saw in our tent I wanted to take it home, but the absolutely winner was this dining set!!! The Safari Village has two shared fire pits in front of the tents.
Amenities at Flying Flags Resort
We went on a Tuesday so the cafe was closed, but they have a cafe and a convenience store with lots of camping basics and souvenirs. One of my favorite spaces was the fireside lounge, they offer bbq on the weekends, another reason why I need to come back.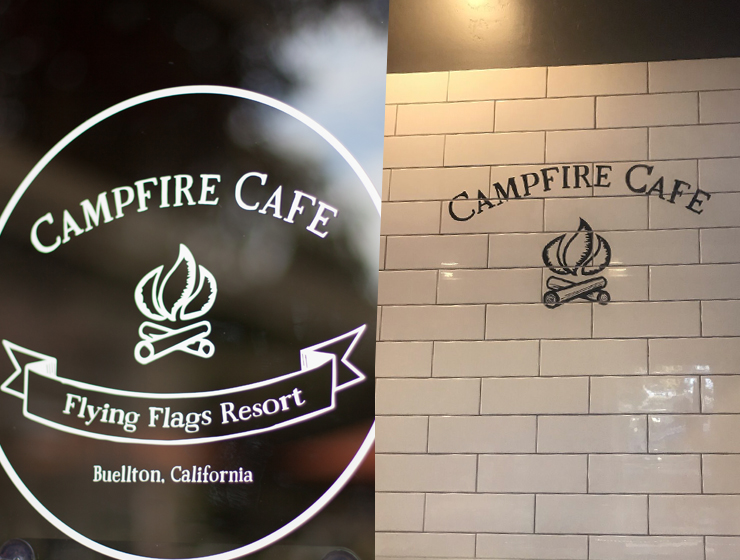 During weekends and summer weekdays they have lots of activities and live music. I really wish we would have more time to play in the pools, playgrounds, dog park and splash zone. I know baby Mia would have a blast!
They also have bocce ball courts, I wanted so bad to try to play (I had never played that before) but we needed to go to the supermarket to get something to eat, plus I bet Mia wouldn't let us play for too long, she was too busy exploring all the place.
Our experience Glamping at Flying Flags Resort
We absolutely enjoyed every moment in our stay! One of our favorite moments was dinner, grilling and eating on the deck. We went to the supermarket bought ready to grill kabobs, wine and cheese. We were so excited to have all the local selection of wines, Santa Barbara County has really good wineries. Actually we visited one the next morning, you can see what we do before, during and after our stay at the resort in this blog post.
The sunset and the sunrise are for sure magical moments over here. We arrive at sunset and it was amazing. One thing I have to say thought it's that on the back of the property it's a busy road. I couldn't see it during the day and we didn't hear any car noises until passed midnight. If you are really sensitive to noise during night I would highly recommend bringing earplugs.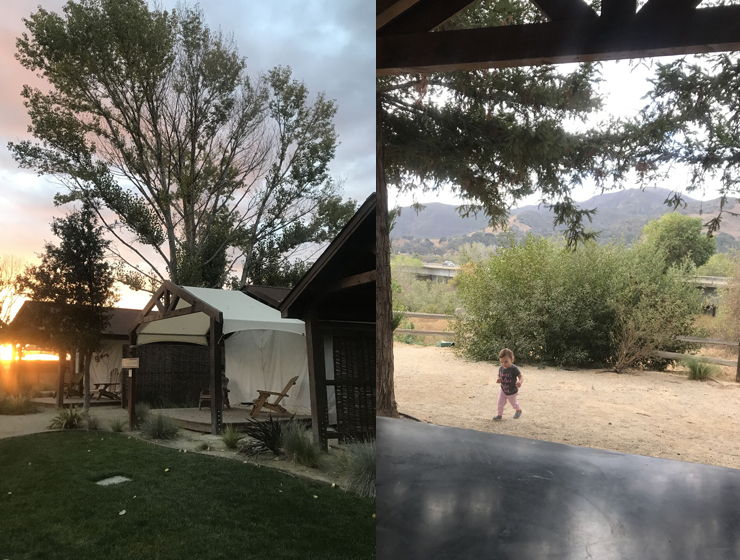 Before we got to the resort we made a stop at a picturesque town "Solvang" and got Danish pastries from Olsen's bakery for next day breakfast.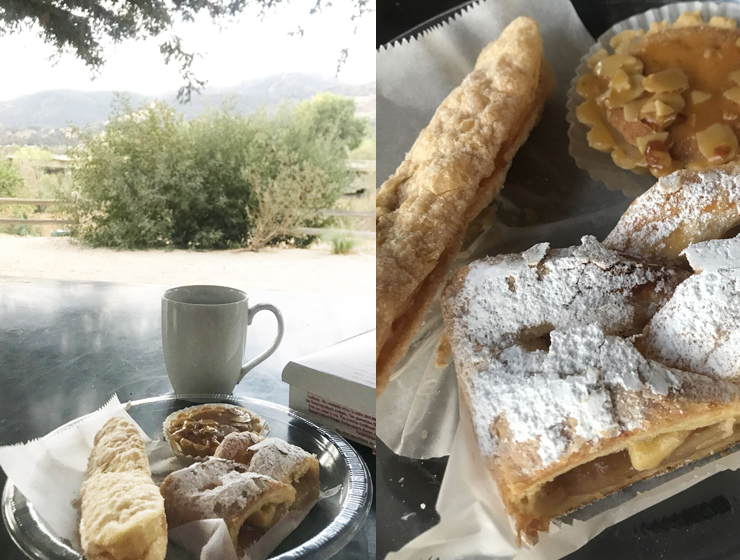 Had you already went glamping? Tell me where should I go next? I wish I could start planning coming back to flying flags, defenetely spend more days over day, maybe on their vineyard cottages and get to know better Buellton .