One day in Los Angeles: what to do
This post It's all about what we did in los Angeles in one day, but actually we stayed more days. The second day we went to Disneyland, and the other days we made a Pacific coast highway mini road trip

We left our house from Houston at 3am and arrive at Los Angeles airport at 7am. As soon as we arrived we were soooo tired, we met with my parents that also happened to be in Los Angeles and then our itinerary started at noon.
When I looked at this place on instragram, I really wanted to squeeze it in our itinerary. I knew it was a really busy place, so make it the first stop was a good move, because we had plenty of patience to deal with Saturday lunch crowds.

Grand Central Market is amazing, not just for the food but for the design itself, you really enjoy being there. It has so many authentic options, you can find prepared food and grocery essentials. If it wasn't for the long waiting lines we would've probably tried one dish from our top choices, like the wonton soup from China café, chicken curry from Sticky Rice and tacos from Ana María tacos. Our time and our patience was limited so we ordered pupusas and chicharrón and yuca from Sarita's pupuseria. My favorite was the chicharrón and yuca. Seriously, best one I have had. The pupusas were also really really good and huge! I would recommend 1 pupusa per person.
Tips: 1.Look for the restaurants and menus online, so you will not have to decided and waste time at the market. 2. While someone is ordering the food, someone else should be searching for a table, trust me it can get really challenging to get a table and even worst if you have a tray full of food. 3. The parking is limited, expect lots of crowds and overpriced food but the experience it's totally worth it, I promise.
This is a must stop for families. The Grove is an upscale shopping mall with a dancing fountain, a trolley and farmers market.We were lucky to go on a Saturday because they had a petting zoo and fall activities for kids.
We walked around the mall and then we went to the farmers market, everything smelled delicious, I wish we had stayed there for dinner. We had an ice cream while listening to a live band, it was really nice. Comparing to Grand central Market, this one is more traditional. Grand Central Market is more "trendy", both were awesome! We went back to the Grove, I really wanted to try a dessert at Laduree and let Mia play in the front park. It was really inviting to see lots of families on picnic blankets, but Mia didn't liked my idea lol she wanted to run over every person that was in front of her with the stroller, so we headed to our next destination.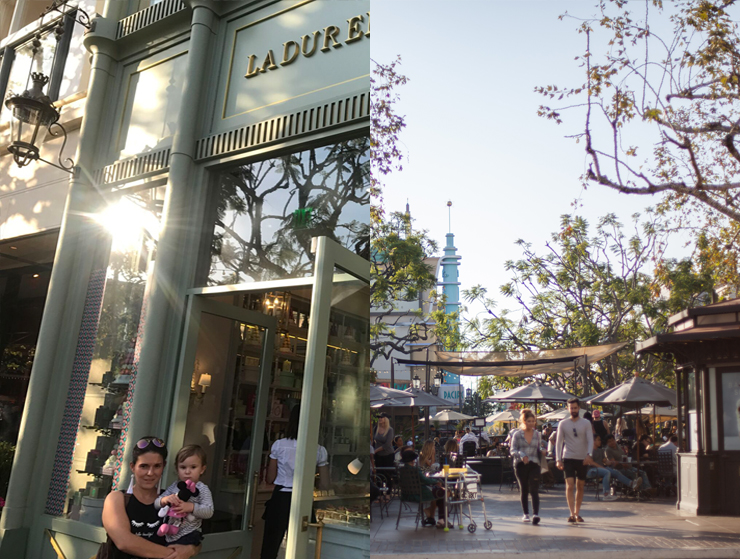 Tips: 1. Plan to have lunch or dinner at the farmers market, you can also find nice souvenirs at the farmers market. 2. The Grove is a really family friendly place, you will find changing stations, nursing rooms and play area for kids. 3.Bring a picnic blanket to enjoy the outdoor park.
3. Lake Hollywood Park
This was my choice for a place to look and take the Hollywood sign picture, mainly because it didn't require any hiking. The drive to get there it's a bit tricky, small and winding streets, but it's nice because you drive around a neighborhood.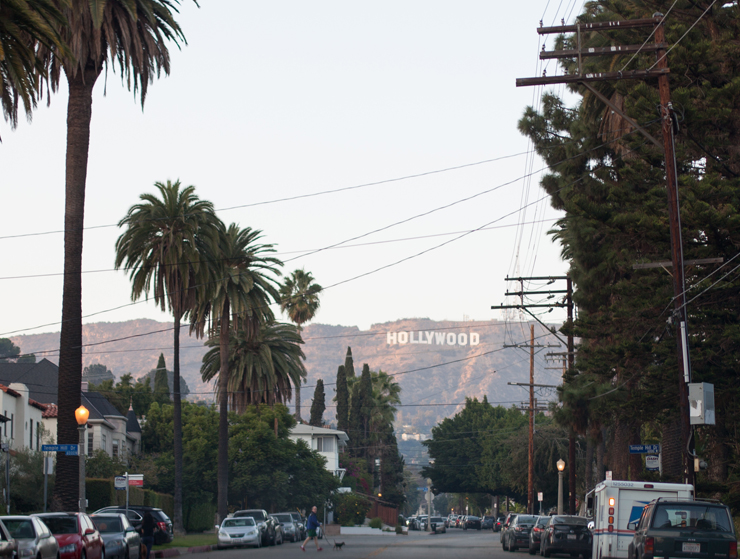 When we arrived I think Mia was feeling that she was in heaven, plenty of green space to run wild and free, plus it is a dog friendly park. She met lots of new furry friends. The only problem was that she didn't have time to waste stopping for a second to take a picture lol 😂 we really enjoy our time here, and looking at the houses while we drive to the park. There's also a playground for kids to play but we didn't have time to go there.
We couldn't make it to Rodeo Drive, Hollywood Walk of fame and Griffith Observatory, which I had planned to go, we still had time for one more place to visit, but Mia was really tired because of the flight and she was constipated plus allergy symptoms so we headed to the pharmacy to get prune juice and saline nasal spray and headed to our hotel at Anaheim. If you start the itinerary in the early morning you will probably have time to make it to those 3 extra places.
If you are looking for more things to do in Los Angeles, go to the Pacific coast highway mini road trip post, our first stop was Venice Beach, which is really close to Los Angeles.