Our Dinner with Elmo and Friends experience at Sea World San Antonio, was our favorite from all the other activities! You can read what we did the rest of the day at Sesame Bay of Play on this post. You get to see, hug and interact with all the characters inside a restaurant (that means no hard sun or sweating involve lol)
What to Expect?
Dinner with Elmo and friends takes place at Rosita´s cafe before the parade. Advance reservation is required because space is limited. It´s recommended that you reserve with time, especially if you are going on a weekend.
Upon entering the restaurant the buffet is ready to serve, you can start eating at right away. Full menu is available on the website, but mostly they have available spaghetti, pizza,  salad bar. 
About half an hour later characters come in dancing around the tables. Some kids do approach them, but basically they have a dance routine to follow at that moment.
After the introduction songs and dancing is over, they spread over the restaurant and kids may interact and take pictures with them.
When dinner is over, everyone walks in line to a reserved viewing space for the parade.

Is it worth it?
For us it was totally worth it, as I said before it was probably our favorite moment.
Mia got to interact with each one of the characters. She even colored with Rosita (that was probably her favorite moment)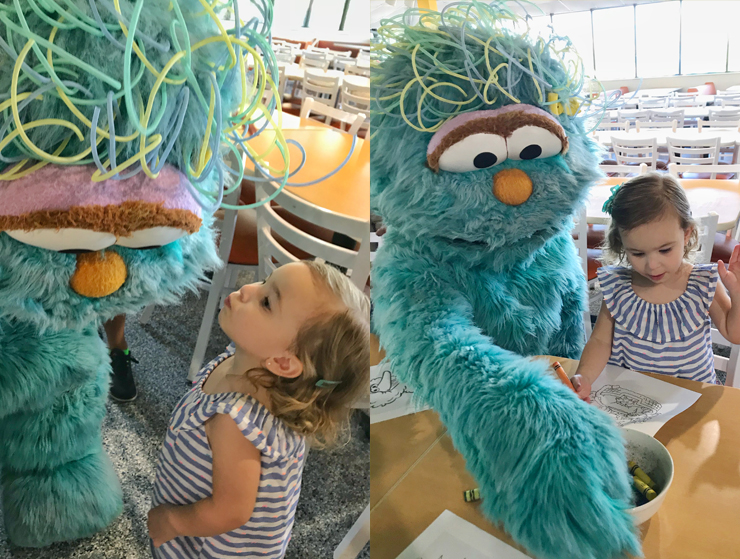 And then she gave her drawing to the big bird. The characters go above and beyond with the kids. Big Bird managed to hold and take the drawing of Mia.
Things to consider
Dinner with Elmo and friends is not available all year round.
Rosita's cafe it is a casual restaurant (disposable plates and cutlery) 
Most food that kids will choose, pasta or pizza has a lot of salsa, so be ready for your little one to get a little bit dirty. Extra points for you if you bring a bib.
If you have been before to Disney's characters experience do not compare or expect this to be something alike, as I said before the restaurant is casual, no fancy furniture or anything, and food it's ok, it's not a 5 star dinning, but the experience is totally worth it.
↓
Pin It now, Visit Later
↓