This is the classic Pecan Snowball cookies recipe. I really don´t know the origin from the snowball cookies but I do know EVERYONE loves them. Whether they called them Mexican wedding cookie, Russian tea cake or butterballs, they are basically the same yummy buttery cookie. Although you will find variations that some use almonds or walnuts instead of pecans.
This cookies are easy to make because you just need a few ingredients and the directions are quite simple: mix everything and scoop them on a cooking sheet. It´s a great recipe to make with kids during the holidays. Plus the smell of butter and pecans in your house it´s a total winner for christmas. If you are looking for an easier christmas activity with kids, I made a tutorial of how to make a marshmallow snowman. Super easy and cute!
The texture of this cookies is out of this world, they are crunchy but they melt in you mouth at the same time. And that it´s because you have to rolled them in powder sugar right after you take them out of the oven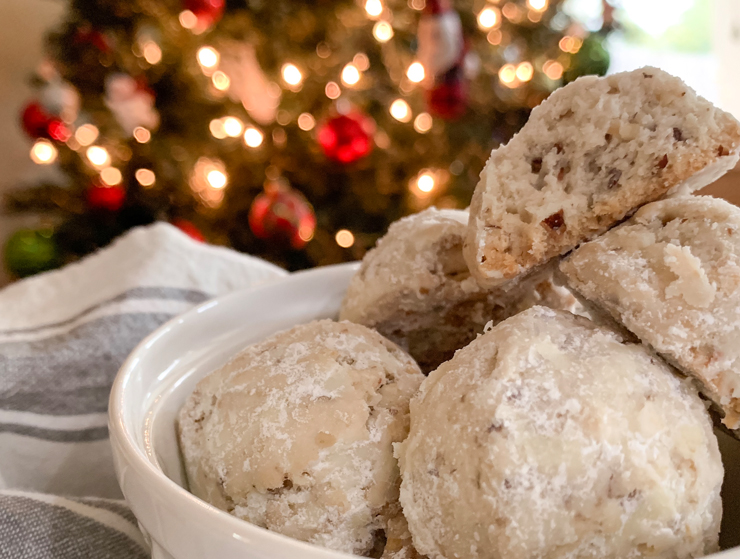 Every time I bake them I have to hide them because if not, they are gone in one day! I promise you will love them!
↓
Pin It now, Bake it Later
↓
Snowballs
2018-12-12 03:54:12
Ingredients
1 cup butter (8oz - 2 sticks / room temperature)
1/2 cup confectioners sugar.
Pinch of salt
1/2 teaspoon vanilla extract
2 1/4 cups all purpose flour
1 1/2 cups chopped pecans
1/2 cup confectioners sugar for rolling after baking
Instructions
Preheat oven to 350 degrees F (175 degrees C)
Cream the butter with 1/2 cup of the confectioners sugar and the vanilla.
Mix in the flour, pecans, and salt.
Spoon 1 tablespoon of dough and place on an ungreased cookie sheet.
Bake in preheated oven until bottoms are golden, about 15 minutes. Do not allow these cookies to get too brown: it's better to undercook them than to overcook them.
While cookies are still hot, roll them in confectioners sugar.
Allow to cool completely on a wire rack, then roll again in powdered sugar.
Notes
Store in airtight container.
Spoonful of Joy http://spoonfulofjoy.com/