You can find these traditional Guatemalan cookies in bakeries across the country. I don´t think someone in Guatemala would actually make this cookies because they are so easy and cheap to find over there. But if you are not in Guatemala like me, and you find yourself craving for this unique cookies, I have the perfect champurrada recipe for you.
Guatemalans eat them at breakfast or as a snack, spreading marmalade in the back or they dip them in coffee.
You will use the same recipe to make both of them, but the decorations are different. The champurrada is round, topped with sesame seeds and the Churros or Tostado has a different shape and it is topped with sugar. This recipe is intend to make 6 champurradas and 6 churros.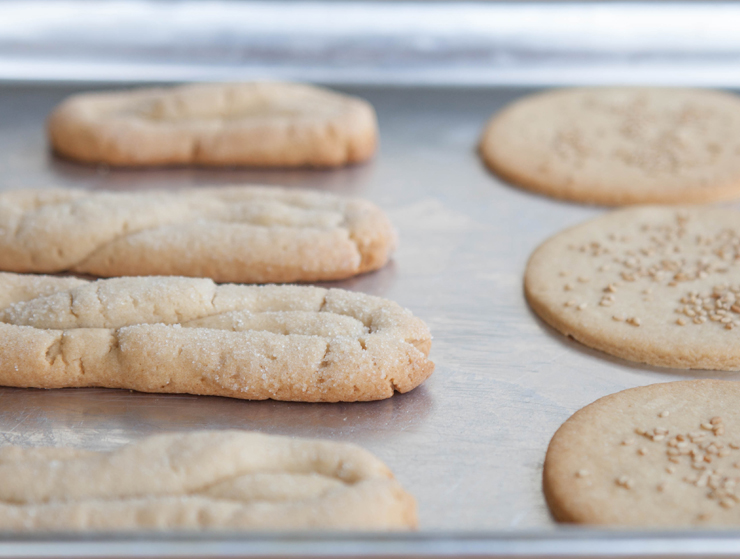 Champurradas sometimes are made thinner (crunchier) and some people make them thicker (more like bread) Personally I like them better crunchier, but all it requires is to roll the dough thinner or thicker to make them as you like.
↓
Pin It now, Bake it Later
↓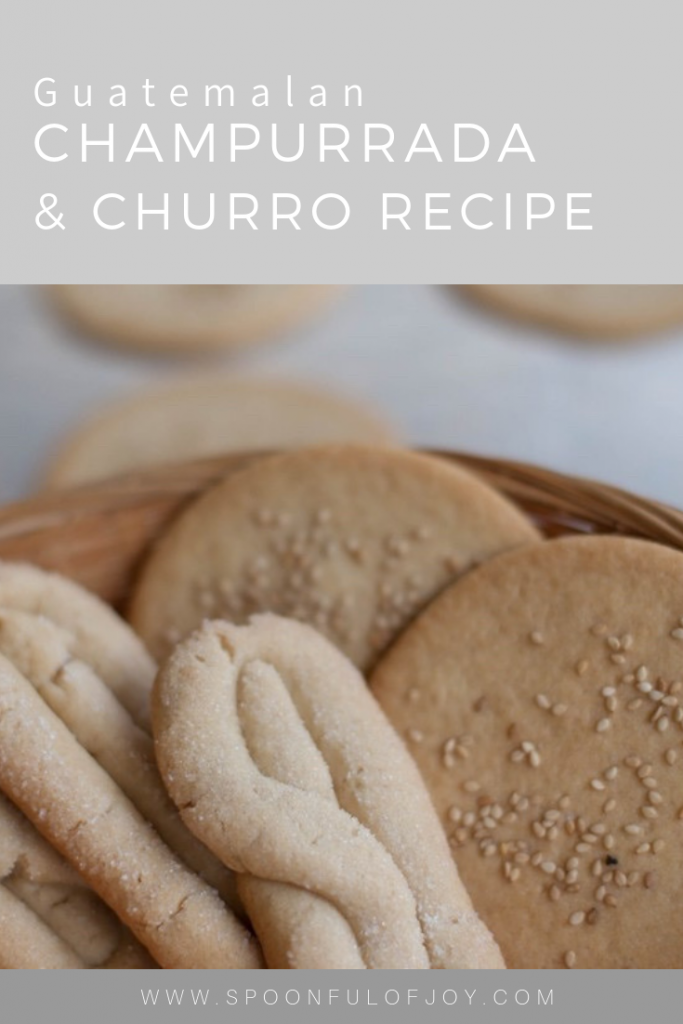 Champurradas and Churros Recipe
Ingredients
1 3/4

cup

all purpose flour

1

tsp

baking powder

1

pinch

salt

1/2

cup

sugar

1/2

cup

shortening

I use crisco butter flavor

1 1/2

tbsp

vanilla

1

egg

1

tbsp

milk
To decorate:
1/2

tbsp

sesame seeds

1/4

cup

sugar

1

egg

splash

water or milk
Instructions
-In a medium bowl, whisk together flour, baking powder, and salt.

–

In the bowl of an electric mixer fitted with the paddle attachment, beat together butter and sugar, until well combine.

-Mix in egg, vanilla and milk,

scraping down sides of bowl as needed.

–

Mix in flour mixture until fully incorporated, do not over mix. Divide the dough in half



To make champurradas:
Roll half of the dough out on floured surface. Cut into circles and transfer to an ungreased cookie sheet. If you don't have circle cutters, divide half of the dough in 6 balls. Press them with a plate, if you like them crunchy make them really thin, if you want them more bread like make them about 1/4 inch high. In a shallow container whisk up the egg with a splash of cold water or milk until pale yellow and perfectly mixed. Use a pastry brush and paint the champurradas with a light, even coat of egg wash, then sprinkle on top the sesame seeds.
To make Churros or Tostado:
Divide the dough in 6 balls. Roll each ball about 6 or 7 inches long. Fold the ends to the middle just as shown in the image. Place the sugar in a plate. Brush each churro with the egg wash and then cover them with sugar. Place them on the cookies sheet and Bake at 350⁰F until lightly browned about 7-8 minutes.