If you are planning to start gardening or maybe had bought some plants and now you're wondering how to take care of them, I'm pretty sure this 6 garden tools for the mindful gardener will help you.
This year I had been working on having a more mindful life. And I have notice that the garden it's a great place to practice mindfulness, to slow down, meditate and to be patient. This is my second year of gardening and I gather a list of the tools that help me last year, or that I figured it out last year that I would need this year to be more mindful at gardening.
1. Books
Start looking at books, magazines or blogs for ideas and inspirations to define what type of garden do you want. Do you want a cutting garden? a veggie garden? a low maintenance garden? What colors? textures? smells? Then start exploring what would work in your area. A good way to find out what will work in your area it's by looking what neighbors have in their gardens. After you have your wish list star making research about each plant, how much sun does it needs, what type of soil?, is it perennial?, Annual? Look if your house has the appropriate conditions or if you need to modify something. I would highly recommend start with 2 or 3 types of plants, that way you will not feel overwhelmed with to much information. I'm not an organic gardener (YET) but I just bought this book to learn more about organic gardening.
2. BUY HIGH QUALITY SEEDS/ HEALTHY PLANTS
I had the opportunity to compare side by side cheap seeds with high quality seeds this spring, I stumble upon Buzzy Seeds at the dollar spot in Target, their seed are guarantee to sprout and if hey don't, they send you more, and guess what? of course they all sprouted, the other brand I bought not even one sprouted. Same thing with big store plants most of the time they are damage or in poor condition and as a newbie it's hard to have that green thumb to determinate which one it's in good condition.
3.JOURNAL OR APP TO KEEP TRACK
Don't rely on your memory, trust me, you will forget when and what you did with each plant. Some plants need to be fertilized more frequently than others, so keeping track of each plant it's really challenging. Some apps are really awesome you can set reminders, take pictures to see how your plant is growing. I tried some apps but I find it easier to have a journal and just write it down! I also love the idea of a journal because you can paste the plant tag.
4.Moist Meter
I can't tell you how many time people had told me just water them once a week or when you see they are dried and your plant would be totally ok! I wish it was that easy. I found this moist meter, and it has been such a great tool, it helps to determinate if the roots are dry, moist or wet. Adequate moisture is critical for growing plants successfully. For most plants, too much water is more dangerous than not enough, and of course if you don't keep some plants moist they will die.
5. Gardening tools for kids
If you have kids this is a must. Kids are great imitators specially when they are under 6 years. This is a great opportunity to teach or learn with them practical life skills, like gardening. They will learn to love and respect nature. It's a good idea being prepare with a small mister or a small watering can, remember SMALL. It's preferable to fill the can several times, than have a plant soaked in water. Target has the Heart and hand collection by Joanna Gaines, they have  the perfect garden kit for kids, you can also find it here.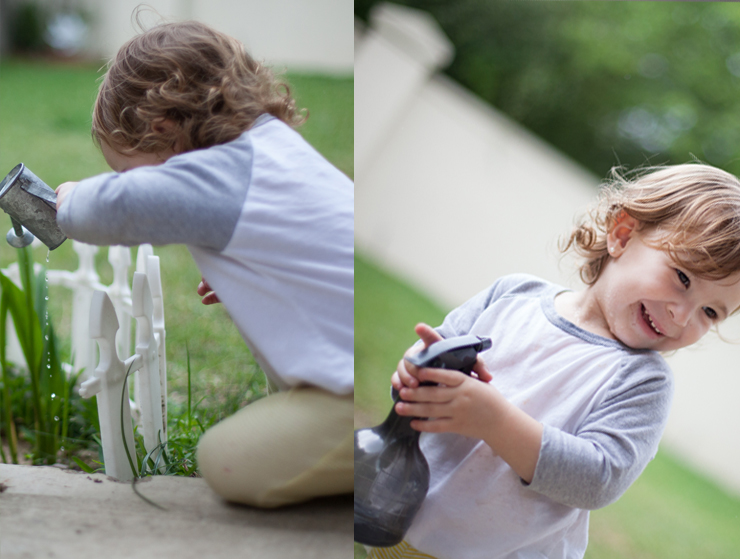 Disclosure: Please note that some of the links in this post are affiliate links, and at no additional cost to you, I will earn a small commission if you decide to make a purchase after clicking through the link. Please understand that I have experienced all of these products and companies, and I recommend them because they are helpful and useful, not because of the small commissions I make if you decide to buy something through my links. Please do not spend any money on these products unless you feel you need them or that they will help you achieve your goals.
Gardening Tools Related Products: