This post is about how we did the makeover to the kid Kraft Windale play set. On this previous post, I shared how we decorated the playhouse.
On that previous post, I received messages asking questions about what kind of paint did we used, how much time did it took us to finished, etc.  and it was also a huge hit over my instagram account, so that's why I decided to finally share all the details.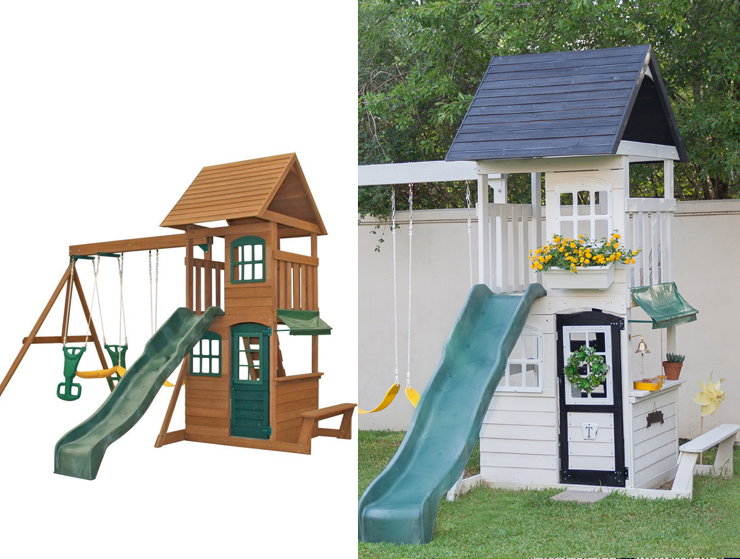 If you already own a used swing set and you are looking to paint it, you will probably need to sand it first or make some sort of treatment.
How did we painted the Play set?
My husband bought on eBay a used airbrush for about $50 it was totally worth it, I think we finished so much faster and spent less paint thanks to the airbrush.  We assembled the roof, the playhouse and the swing end.
First we painted the playhouse and then the end frames in white, lastly we painted the roof in black.
The windows and door hardware were painted with spray in satin white and matte black.
How much did we spent?
A total of $118.00 But if you already own an airbrush or you will paint brush it by hand then you will only spend around $70
$50 used airbrush
$10 Spray bottles
$26 White exterior paint and primer  (We bought one gallon and have leftovers.)
$12 Black exterior paint and primer, one pint ( 29 FL oz ).
$20 Buckets, paper and accessories
How much time did it took us to build and paint?
This was a Christmas surprise gift so we work on it at night, We work the three night before Christmas for about 15 hours total.
If you want to see all the details of the accessories we bought to decorated the house check this  post.