For the first time I had this feeling that I didn't wanted to came back from vacations. At the end of every vacation I always have this need to come back to reality, but not this time, I don't know if it was because it was a short vacation or because how I felt in love with California. I started planning this trip knowing that my plan could be totally sabotaged by Mia (she is a couple of weeks from the terrific twos ). In effect my plan got sabotaged several times and we made unplanned things that turned out to be amazing. Anyway I wanted to have a plan and options of places we could visit and once there we would choose to do whatever felt right at that moment.
Day 1—> Mini Road trip from Los Angeles to Solvang
Initially I planned to visit Morro Rock, Pismo beach and San Luis Obispo and spend the night at Solvang on day 3, and on day 4, visit Solvang, Malibu and Venice Beach, but we wanted to meet with my parents again before they left L.A so I changed the itinerary.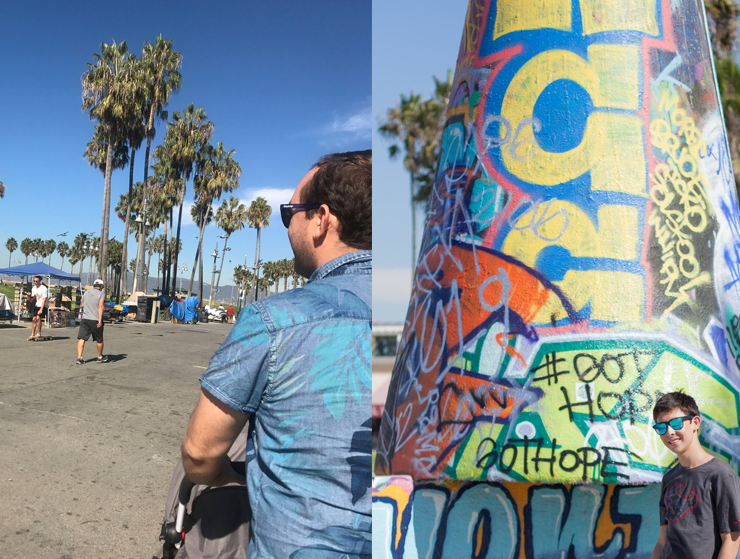 1. Venice Beach
Venice beach is so vibrant, artistic, fun and it gives you an idea of how a bohemian lifestyle looks like, you can expect lots of graffiti, skaters and street vendors. We met with my parents, walked around the sidewalk market which is great to get souvenirs. We also walked at the beach, of course the water was so cold that even Mia didn't want to touch it, so she started a sea shell collection with my parents.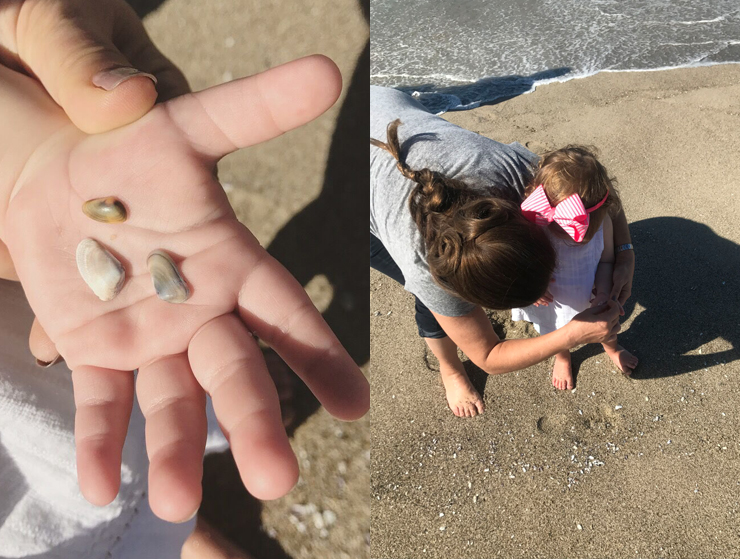 Before we left I got an acai bowl at "Amaze Bowls", I have never tried one of this before so I didn't know what to expect and Wow! It was so good and refreshing , basically it is a really thick smoothie that's been topped with fruit, their signature acai bowl is serve in a coconut, but they didn't have coconuts at that time.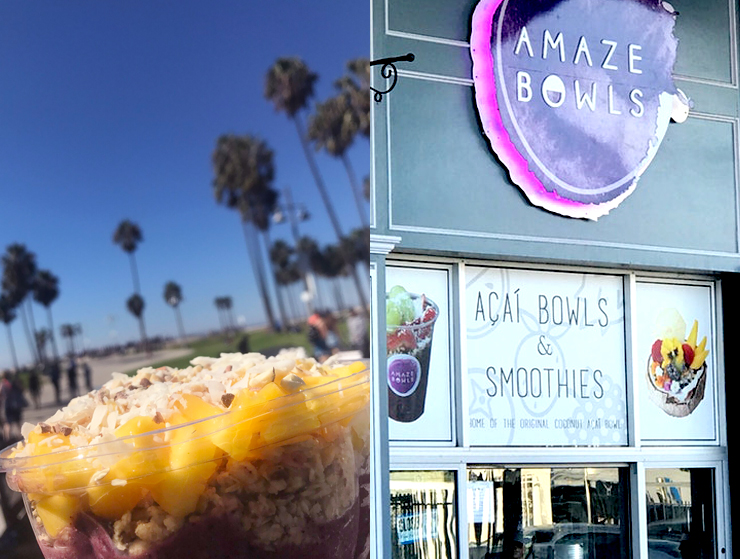 Tip: We didn't have any more time to go to Venice canals, but I highly recommend making the time to walk through the canals. We left Venice beach at about 12pm (totally off schedule)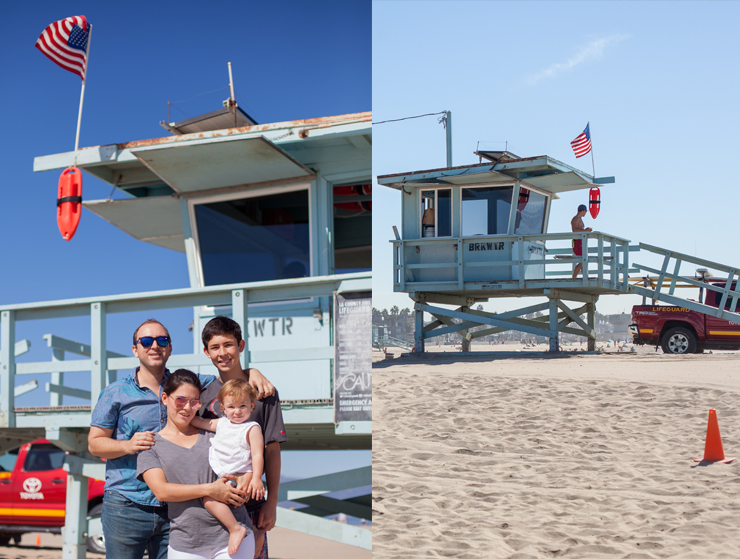 Mia fall asleep so we didn't stop at Malibu, we drive at the amazing scenic views of highway one and let her sleep for about 2 hours.
2. Santa Barbara
We made a non planned stop to have lunch at Santa Barbara. So glad this happened, this was by far my favorite place. At Santa Barbara everything is so clean, elegant, picture perfect on every angle and spot, gorgeous views across the hills, mediterranean architecture and sailboats.
I search at TripAdvisor for a good place to have lunch at Santa Barbara and found "Shellfish company" it was located at the pier but it was full and the only tables available were outside. We had lunch at "Moby Dick" that was located at the same pier as Shellfish, we got a really nice waterfront table and had ceviche.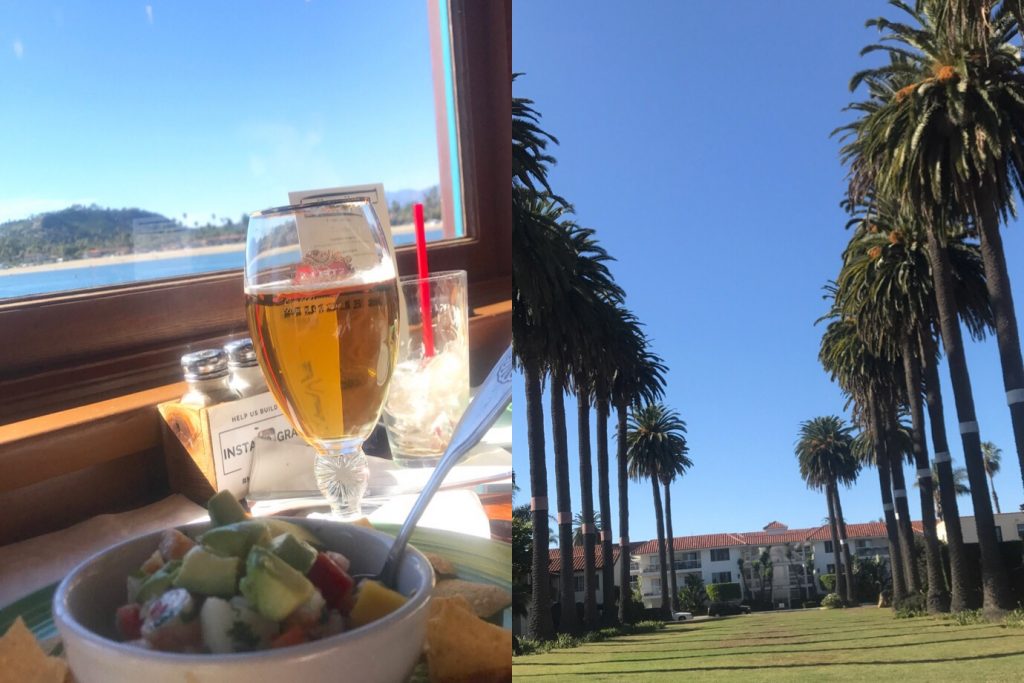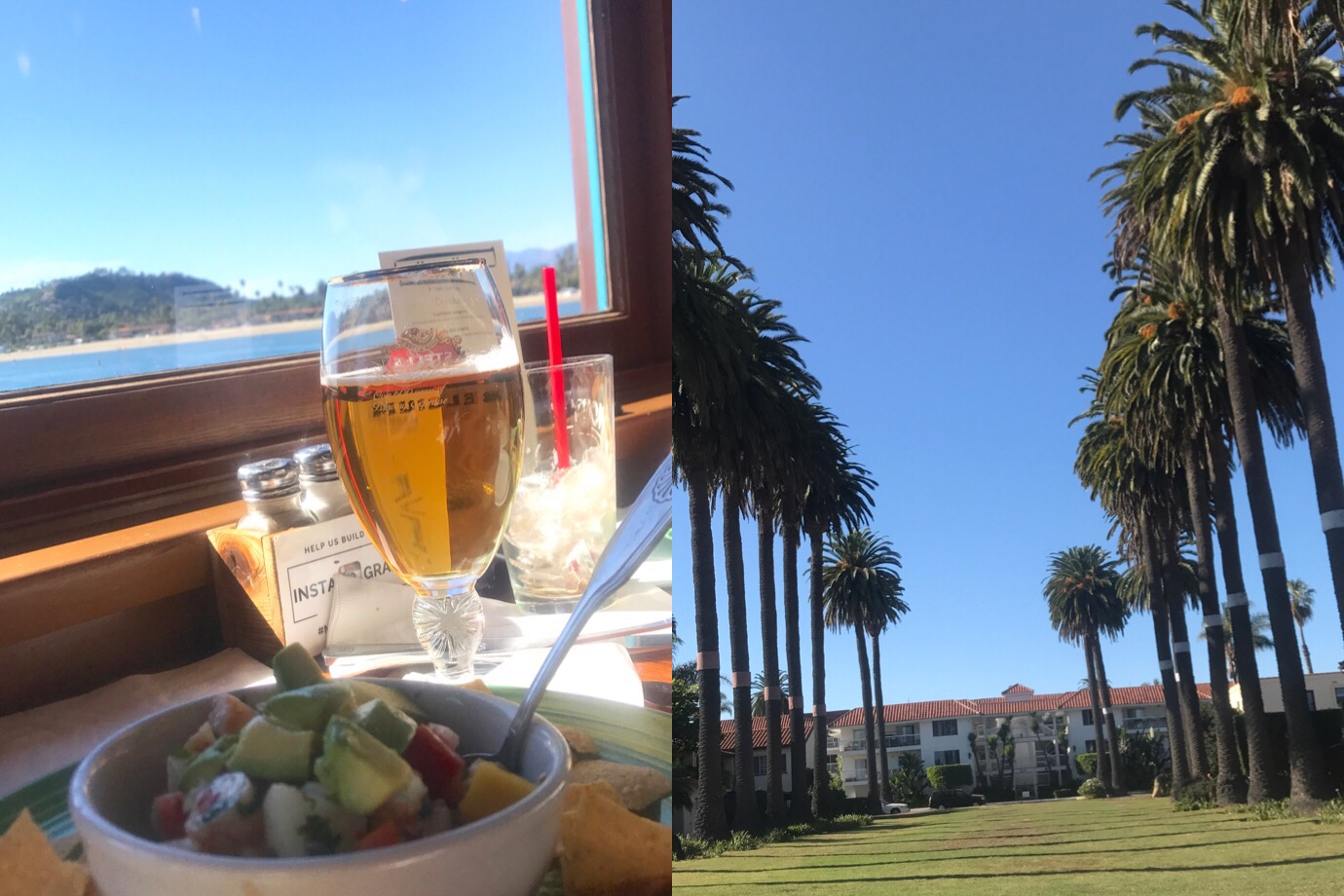 3. Solvang
We arrive at Buellton, drive through Solvang, a small charming danish town, and we had coffee and danish pastries, at Olsen's bakery, they were so so good that we got some more for the next morning breakfast and a bucket of cookies as souvenir.
4. Flying Flags Resort
Next day was Cristian's birthday, so I planned to go glamping that night at the coolest RV resort, "Flying Flags" they have different accommodations like RV stations, cottages, cabins and safari tents. You can read all about our glamping experience in this post.
We choose the safari tent, I will write soon a post about our stay at this resort, but it's a really nice experience they have pools, splash pads, playground, fire pits, a café, convenience store and so much more amenities, we will definitely want to make this again for at least two nights.
We went to the supermarket and bought wine, cheese and ready to grill kabobs.
Day 2—> Solvang
As I said before the original plan was to visit Morro Rock and Chamisal vineyards at San Luis Obispo, but Buellton was so much better than we expected that we decided to stay there. We had coffee and danish pastries as a pre breakfast.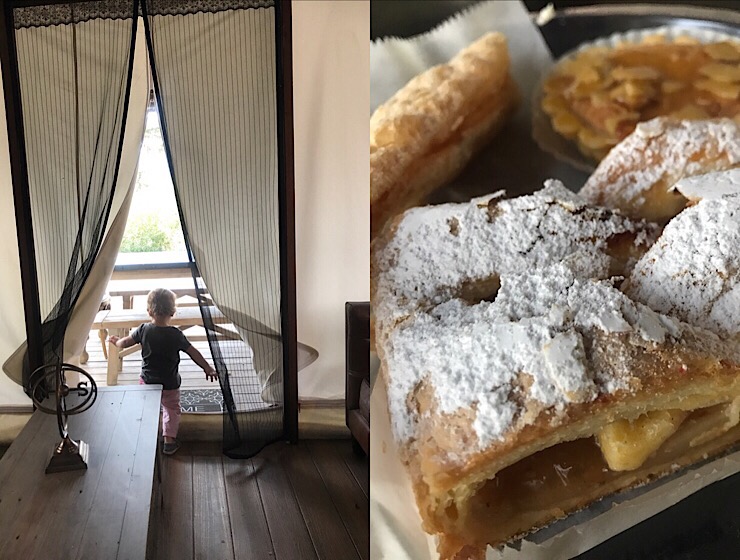 1. Solvang Downtown
We drive to Solvang that was just 10 minutes away from the resort, we passed an ostrich farm, we wanted to stop but we were so hungry, it was almost 12pm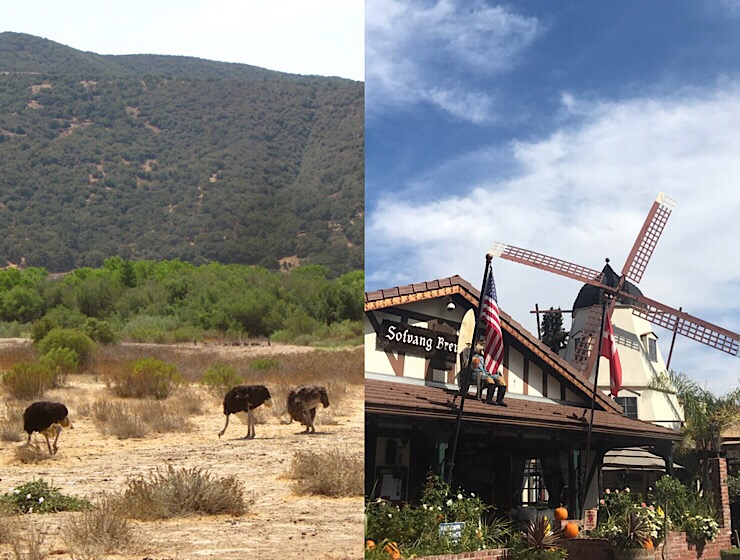 We had danish pancakes at Paula's pancake house, they were so delicious, and the best coffee we have had in the whole trip, after brunch we walked around Solvang, it is so charming basically you will find restaurants, bakeries, hotels and souvenirs. They have a really nice playground, but Mia was so ready for her nap.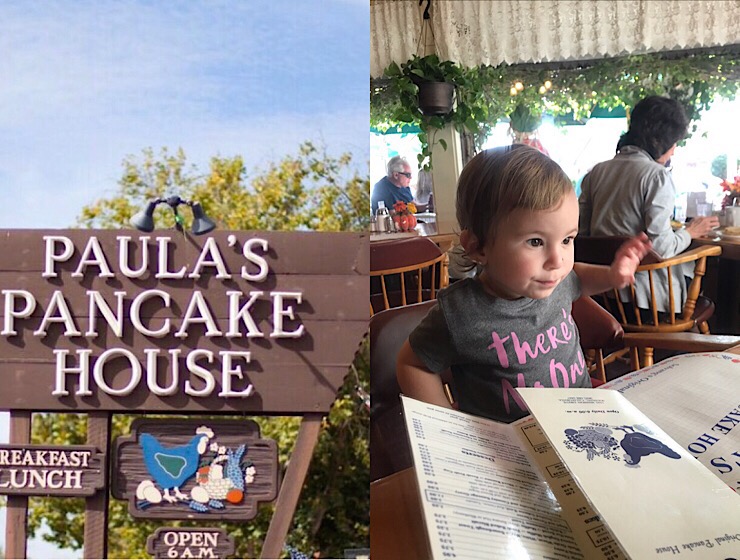 2. Rusack vineyards
Mia fall asleep and Sebas was also really tired he was also falling asleep, listening to music, so he gladly accepted to stay with Mia in the car while we visited Rusack Vineyards that it's about 15 minutes drive from Solvang. We choose to visit that winery because of their ratings and because they have an outdoor patio with plenty of space for Mia to explore, but so glad she fall asleep at that time, we had a really nice moment with Cristian, we order a tasting, they give us the cups as souvenirs and then we bought a bottle of our favorite wine to bring home.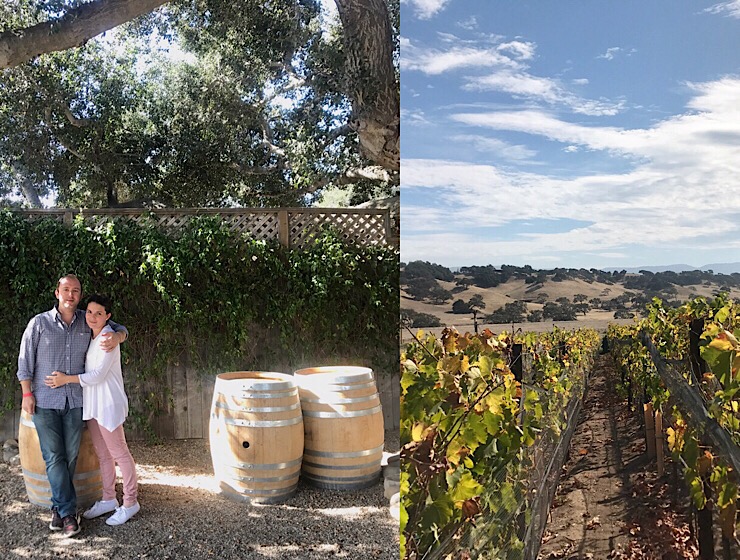 3. Back to Los Angeles
We started driving back to Los Angeles about 2:30pm and had dinner at In N Out burger at about 6pm, after that we wanted to go to Rodeo Drive but we started to get anxious about the flight, we had to be at the airport at 10pm and return the car before that, so we decided to have an ice cream close to the airport, but once we arrived we figured out we weren't hungry, next door was a Dave and Busters, it turned out to be the best unplanned activity for Sebas, Mia and Cris.
Definitely a vacation to remember for ever!! Love the time we spent together and the places we visit.
Tip: If you are planning a visit to Los Angeles and make a short Road trip like the one we did, I will highly recommend to stay at least 5 days. Our initial plan was to road trip from L.A to Napa in 10 days but for major reasons we had to shorten our vacations.
Now let me know, have you been in Los Angeles? Have you made a Rod trip from L.A? Are you planning to visit L.A?