Houston Downtown Aquarium it's one of our favorite activities during summer. You can learn about beautiful and rare species the ocean has to offer. Plus you get super fun rides and carnival style games.
Make sure you watch the video at the end of the post with all the highlights of our visit.
The Aquarium
We started our visit at the aquarium exhibit. The first exhibit is the Louisiana swamp. After the swamp you enter to a jaw dropping tunnel, Mia was really amazed by the reflection of in the glass and the floor, the tunnel and of course the fish, it was really cool to see her so blown away.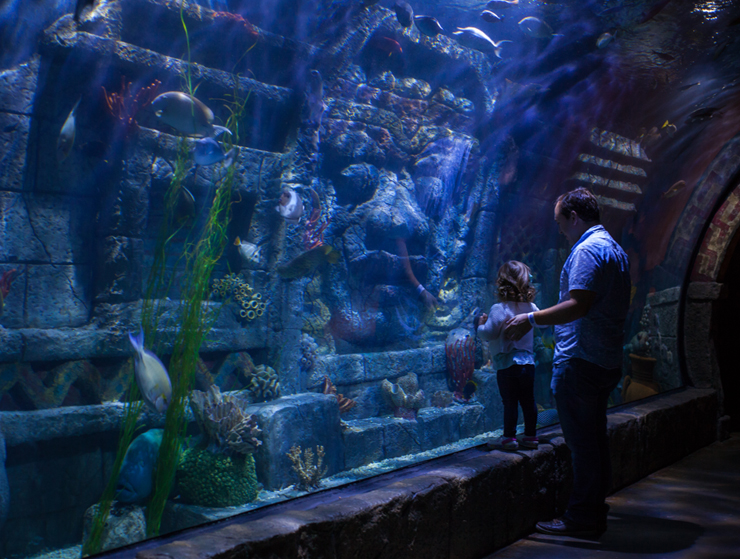 My favorite exhibit probably was the tank with living coral reefs, it's just surreal to see all the fish species so close, the different textures, the vibrant colors, the movement seem so peaceful, I really enjoyed it.
If you have Nemo or Dory fans, they will not be disappointed, they will spot them for sure!
The Shark Voyage train at Houston Downtown Aquarium
This is one of the top attractions for kids, not only because of the train but because of the sharks. If you are riding the train with little ones be aware that they have some scary fake sharks before and after the tank.
The Carousel
This is the first time Mia really enjoyed the Carousel. If you purchase the all day adventure pass you have unlimited rides. Totally worth it!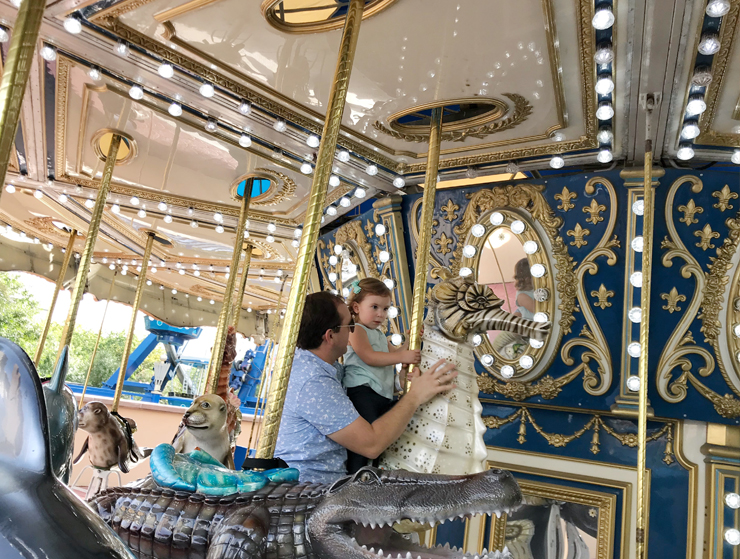 Cooling off at the splash pad
If you are not a Houstonian and are visiting Houston during summer, you will discover that we have splash pads in almost every attraction. Yes! be ready because Houston during summer is Hot like really uncomfortable hot, not only the temperature is high but what makes it more intense it's the humidity. So letting your kids cool off on the splash pad it's a smart idea to calm cranky kids.

I alway forget to bring extra clothes for Mia to play at splash pads but this time I didn't. She couldn't believe I let her get wet, she was so excited.
Things to consider
-Give yourself at least 2 Hours to see everything.
-Bring a change of cloth and a towel if you plan to get wet in the splash pad.
-The carnival games might close earlier depending on how busy the day is.
-Tickets: Between $10-$20
-The all day adventure pass it's totally worth it!
-Children under 2 don't need ticket
Disclosure: My family and I were given complimentary tickets. I was no financially compensated for this post. All opinions are strictly based on my experience.
↓
Pin It now, Visit Later
↓