Free doesn't have to mean boring, I bet you will have so much fun with this free things to do at Galveston, that you will want to make them every time you visit Galveston, and make them a family tradition. If you are looking for more things to do around Houston you might want to look at other places I had visit and recommend here.
1. Stroll the seawall and take a break at Murdochs
If you have drive through the Seawall you have probably see Murdochs and think it's just another gift shop! At least that's what it thought lol 
I discovered Murdochs totally unintentional. We went for a walk from our hotel and I got really dizzy (I'm pregnant) So we had to stop at Murdochs to get some shade and something to drink.
They have a beautiful deck, with rocking chairs and a view to the beach. Best time to go, is probably in the afternoon to watch the sunset but be aware that sunset will be really packed with people.
Mia had so much fun at the deck, just watching people, playing with other kids and feeling the breeze.
And inside the store you will find lots of beautiful and unique souvenirs. Interesting and fun stuff like this hermitage crabs. So fun to watch them change of shells, and s0me of the shells they have are painted.
Yes the Ferry is Free! The ferry will take you from Galveston to Bolivar Peninsula. You can return to Houston from Bolivar Peninsula or you can ride back the Ferry to Galveston.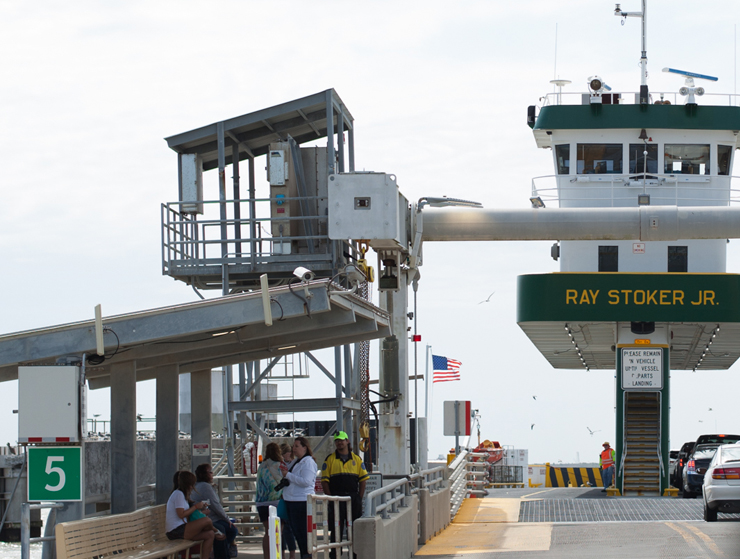 I have heard that sometimes you can watch dolphins, We didn't know this until later so we weren't looking for dolphins but next time we will be looking for them.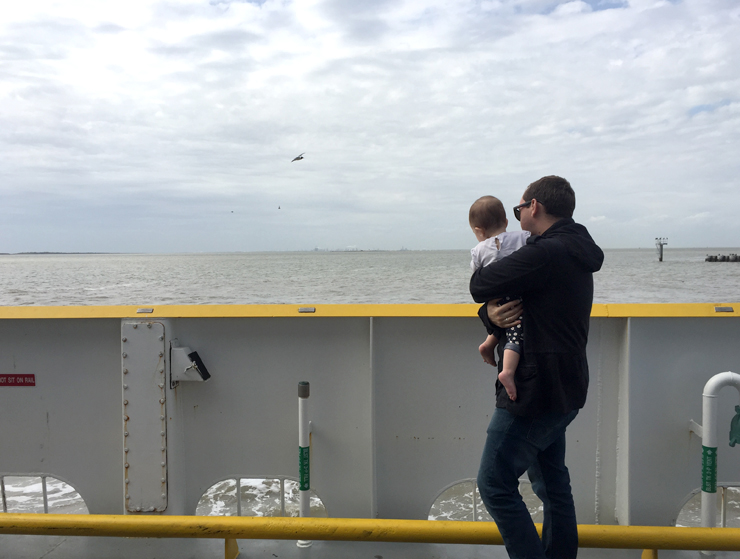 Be aware that it's super windy on the Ferry, but it's so much fun! You can stay inside your car or you can get out enjoy the wind and enjoy nature.
3. Stroll the Strand and have fun at
Saengerfest Park
The Strand is the historic district in Downtown Galveston. You will find restaurants, stores and boutiques. Saengerfest park is a great place for kids to play, take pictures at the greetings from Galveston mural or take a ride in the trolley (kids ride free, adults $1)
4. Taffy demonstration at La King's Confectionery
I love La King's because it's old fashioned and because all the treats you can find there.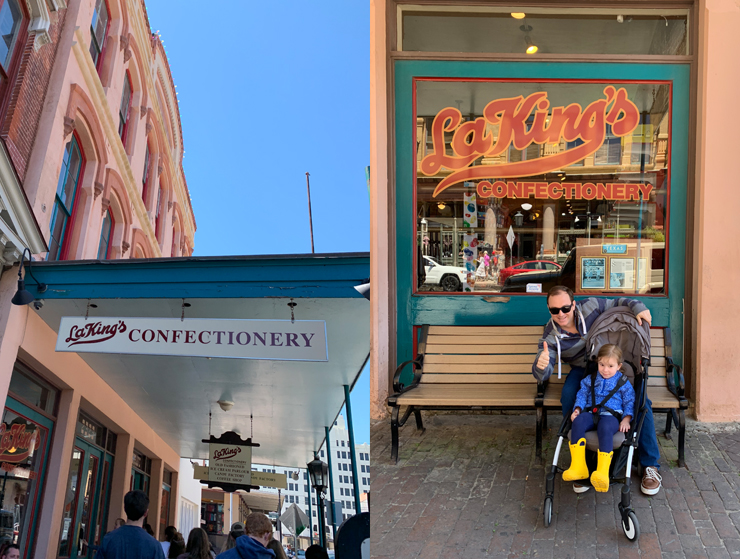 They have demonstrations of how Taffy is made everyday. 
At the end of each demonstration they throw  Taffy to everyone to try them for free. Super fun experience for adults and kids.
You will find lots of colorful murals around Galveston, specially at the Historic District.
Galveston has many alleys like those in the movies. This one shown in the photo is not exception, you can find it behind "Old moon Deli"
You can also find some art on the seawall. On Downtown they have several houses that have Tree sculptures you can see the map and more info here. 
6. Look at ships and fishing boats at Pier 21
Pier 21 offers lots of paid attractions like museums, restaurants and boat tours. But just by strolling around, kids will be delighted looking at different fishing boats and ships.
Near Pier 21 you will find Sampson & Son's Seafood market, great place for kids to watch fresh seafood, fishing boats and even pelicans asking for food.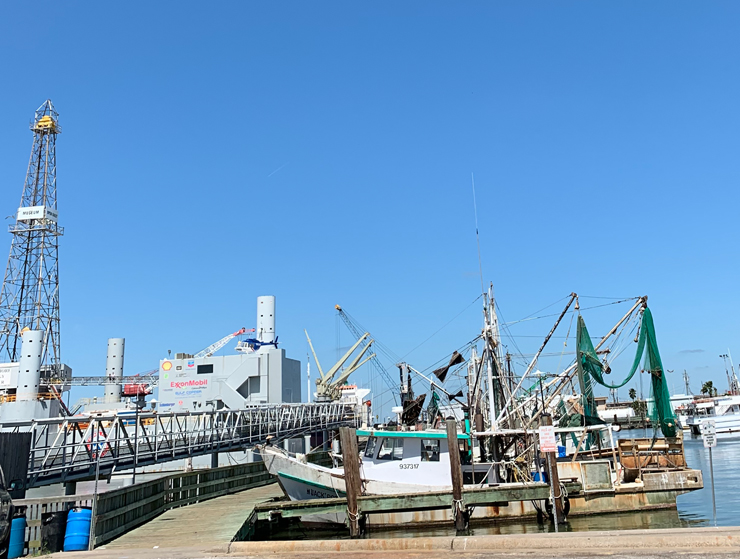 The beach is the obvious one free activity you want to do in Galveston.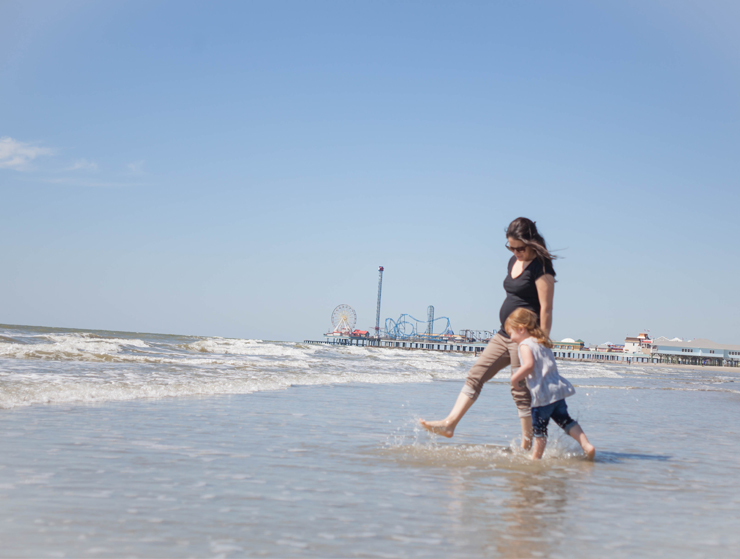 8. Enjoy and explore nature
It's not hard to get entertained by the seagulls at the beach. Start a seashell collection is another free activity and nice souvenir kids can take home.
This one is extra, because you can't make it every time you go to Galveston. But plan at least one time to go to the Mardi Gras parade, it's super family friendly and so Fun for kids and grown ups. 
Tell me… did you find this article helpful? Have you been to Galveston before? What other free activity would you recommend to other families?
⌄ Pin It now, Visit Later ⌄