Mia loves our cats and any other cat, she acts like a cat lol, she loves milk, cardboard boxes, treats, even cat toys! She also love pit balls. So her party was all about all her favorite things: cats and colorful pit balls.
We didn't have lots of guests for her party so we had a small cake (the bottom of the cake was fake) but I really wanted a two layer cake, in fact thank God I made that fake layer because about 2 hours before the party the backdrop smashed the cake and broke my cake stand, the fake layer survived just some minor scratches, and yes I was FREAKING out! But my husband went to the grocery store bought a naked cake, while I was making a new cake topper, and we save the cake 🙂 of course It didn't taste the same but It was similar of what I had done before.
We have some cute cookies, with milk cookies and striped number one. And lots of donuts YUM!
I had a piece of wood from an old table, I painted with chalkboard paint and wrote her first year highlights!
I made a kitty piñata with a balloon, newspaper and tissue paper, it was a fun experience but I don´t know if I would do it again, it was lots, lots of work! One of the activities we had for the kids was coloring place mats.
I still remember that for my son's first birthday party (almost 14 years ago :O ) one of the things that he was most excited about was playing with the gift boxes. We made all the activities and games using cardboard. The main activity was the castle, I explained to my husband the idea I had, I collected big cardboard boxes like 4 months before the birthday party (every time a neighbor offered free moving boxes) and he made it happened! and of course I decorated it with pom poms, confetti balloon, a cat toy for the front door and a birthday banner. Kids loved playing in the castle, my idea was for the castle to be on the grass, but Mia wasn´t walking yet and the grass was a little bit muddy, so we decided to leave it on the floor.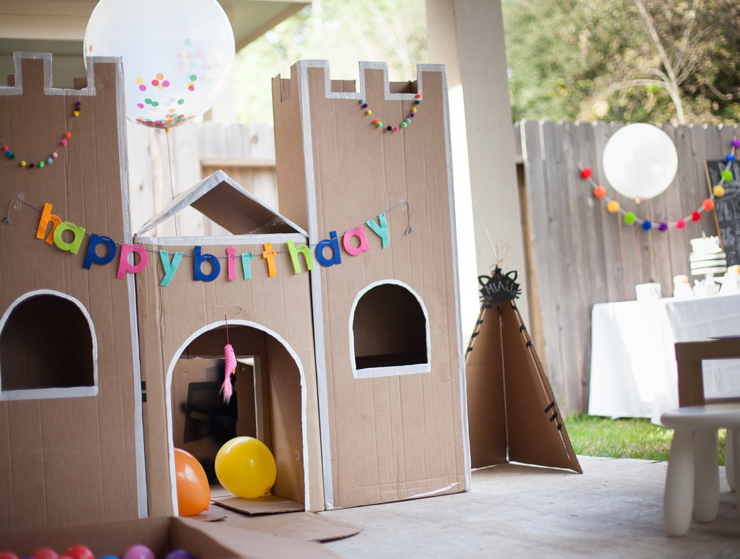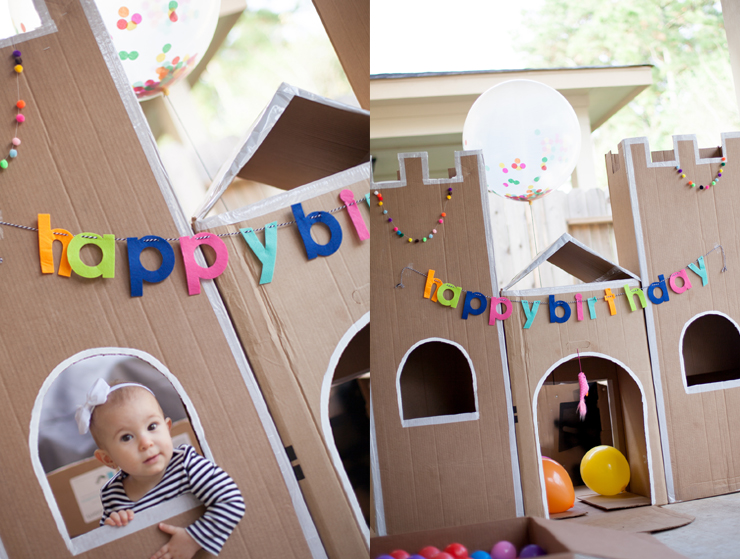 We also made a cardboard pit ball and a cardboard Teppe.
We didn´t had a smash cake we had a Smash donut, the cat was a donut hole.
Pictures talk by itself lol She really liked the donut!
We had gold fish and animal crackers as well as fruit balls to keep the theme in food. We also had a milk bar with cute milk bottle for the kids, but I totally forgot to take pictures of that.
The favor was the cutest pull back wooden mouse and bubbles! Happy first birthday baby Mia!
Vendor credits:
Invitation, place mat, high chair banner: MJ Tabush Sweet Designs
Cake topper and cookies: MJ Tabush Sweet Designs
Happy Birthday Banner on Castle: Target
Bird cat toy: Dollar Tree
Letter Balloons: Hobby lobby (I spray painted gold letters)
Save
Save