This Raspberry Linzer cookies recipe have something special, that you will want to bake another batch as soon as you eat your first batch. The combination of almond with raspberry blend so well plus the subtle touch of lemon gives it an interesting twist.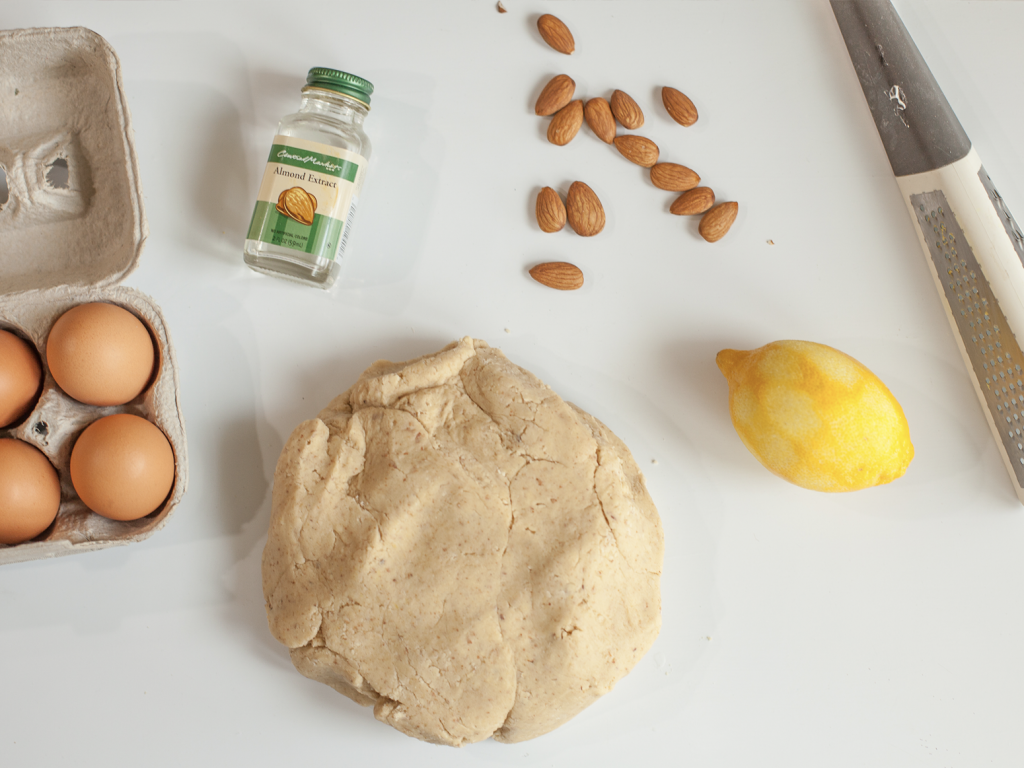 I like making big and small cookies. Why? Because as a breakfast I can have a big cookie with my coffee, but for a quick snack the big one is just too much.  So that's why you will see that I used heart shaped cookies ( the big ones) and circle and squared shaped cookies with a small heart.
For the big ones I used a 5 inch heart cookies cutter and for the middle heart I used a 1 inch heart.  The smaller ones the square and the circle were about 2 inches and the heart was a mini heart cutter (it was kind of challenge cutting them so small)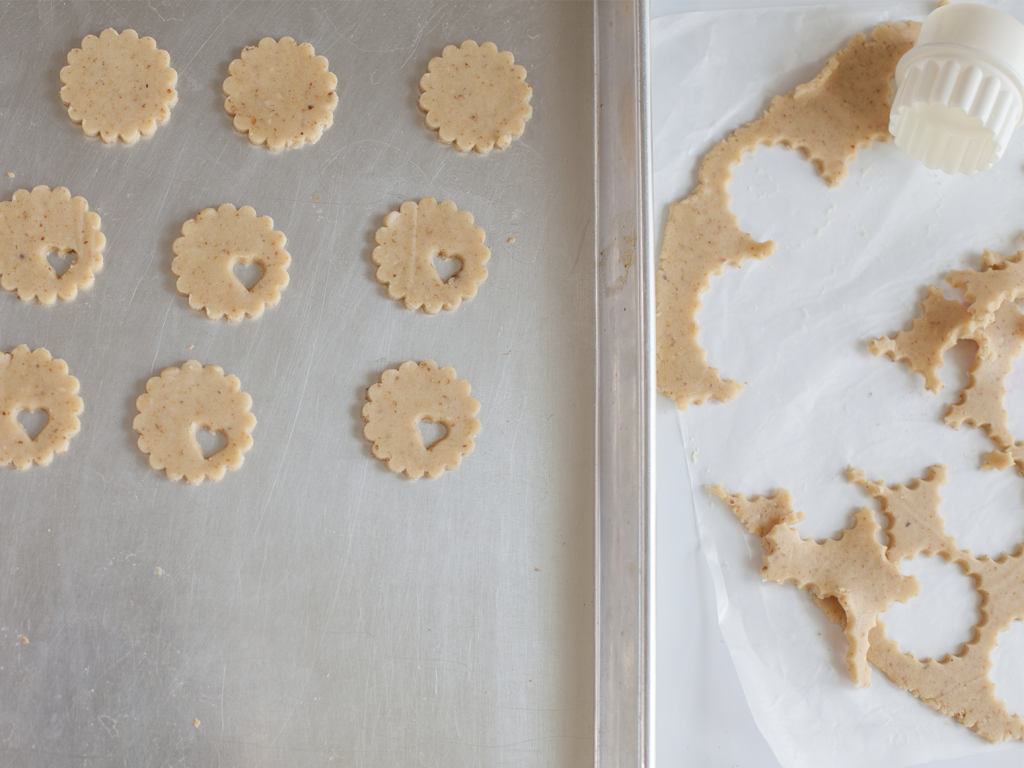 For the filling I usually like to make my own marmalade because you want to make it a little bit thicker so it will stay inside the cookie and will not spread.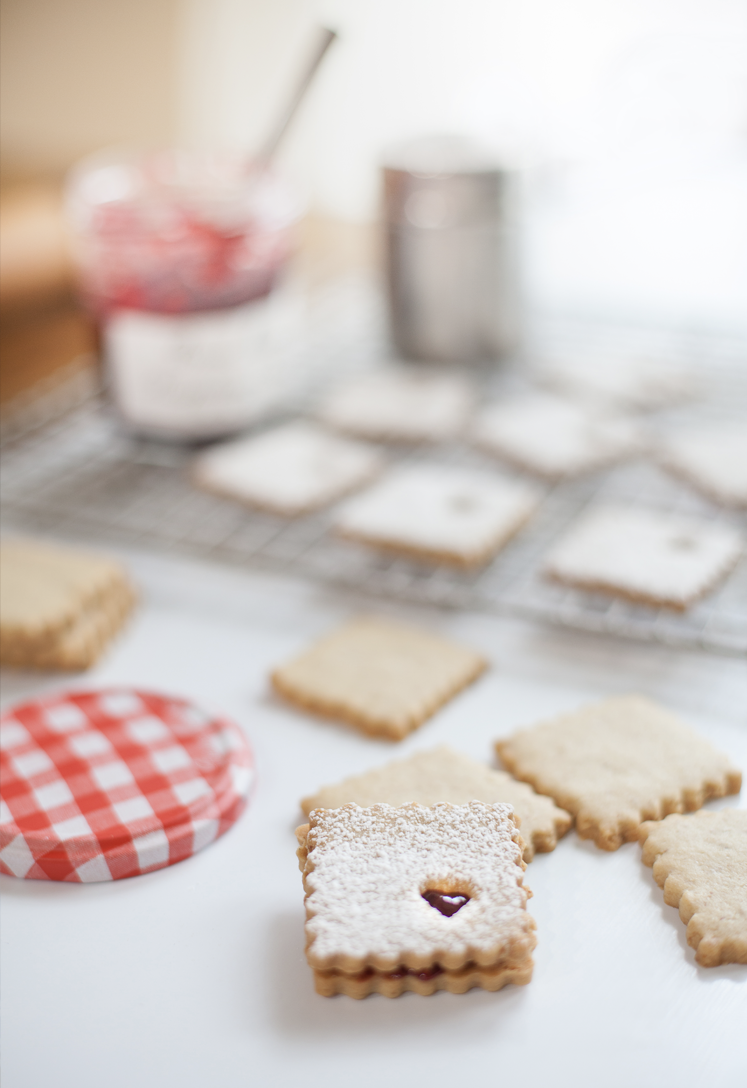 Raspberry Linzer cookies Recipe
Ingredients:
2 1/4 cups all-purpose flour
1/2 tsp salt
1/2 tsp baking powder
3/4 cup whole almonds
1/4 cup packed light-brown sugar
1 cup unsalted butter , softened
1/2 cup powdered sugar , plus more for dusting
1 large egg
1 tsp vanilla extract
1/4 tsp almond extract
Zest of 1 lemon
Raspberry preserves, with seeds or seedless if preferred
Instructions:
Combine half flour, brown sugar and almonds in a food processor; process until finely ground.
In a mixing bowl, whisk together the remaining flour, baking powder, salt and almond mixture, set aside.
In the bowl of an electric stand mixer fitted with the paddle attachment, whip together butter and powdered sugar at medium speed until combined. Add egg, then blend in vanilla and almond extract. 
With the mixer set on low speed, gradually add in flour mixture and mix until combined.
Form mixture into a ball, knead lightly until smooth. Divide dough into 2 equal portions, wrap each portion in plastic wrap and chill in refrigerator for at least one hour.
Dust work surface with all purpose flour, roll out dough into 1/8 to 1/6-inch thickness. Cut into heart shapes using a cookie cutter, then using a smaller heart shape cookie cutter, cut smaller hearts into the centers of half of the hearts. 
Carefully transfer to baking sheets. Chill dough that's not currently being rolled or baked, the hearts hold their shape better when cold. Bake cookies 1-inch apart, in preheated oven for 10 – 12 minutes until edges are lightly golden. Place on baking sheet and dust cookies with heart cut centers with powdered sugar. Let them cool completely.
Spread raspberry marmalade over whole hearts, then place powdered sugar cookies on top. Store in an airtight container.