This are the traditional Argentinian Alfajores recipe. Well I didn't add any coconut or lime zest, but I accidentally discover a new way of eating alfajores that take this cookies to a whole new level of yumminess. 
This Alfajor recipe I have been improving it for a long time, changing some measures of the original recipe, until I got the most delicious of all.
This is one of my favorite cookies, I love them as much as my Pecan snowball cookies  and my lemon shortbread cookies
I bought all the ingredients to make alfajores, because I really was craving for one, but couldn't find time to make them. So my husband brought one day a Haagen- Dazs dulce de leche ice cream for motivation.
Of course it worked, and I found the time to make them. What I didn't take in mind is that during this pregnancy I haven't had any sweet because let's say they were on my long yucky pregnancy food list.
So the first bite, yes it was delicious but super sweet for my taste at this time (spoiler alert all Alfajores are super sweet lol).  To compensate the sweetness I wondered  what would happen if I add Ice cream on top of a cookies?
I added a spoon of ice Cream and OMG It tastes heavenly but the cookie was huge.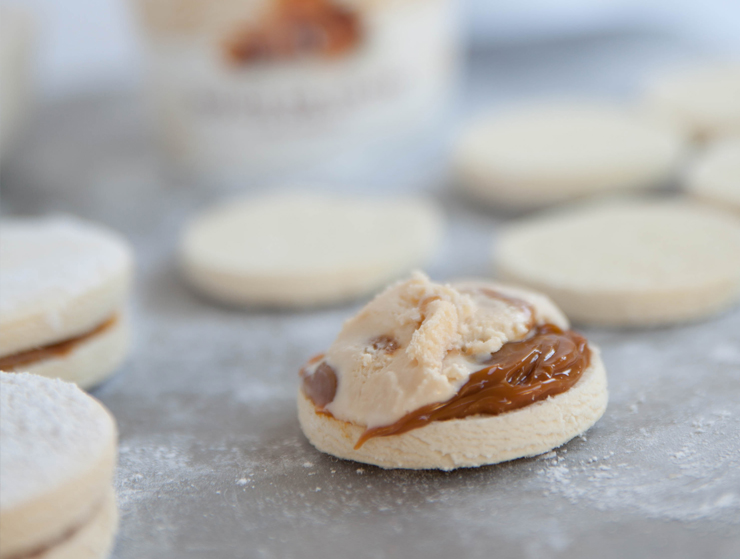 So I place a layer of dulce de leche on top of a cookie and then a tablespoon of dulce de leche Ice Cream… P E R F E C T I O N Right balance of of sweetness with different textures that will melt on your mouth.
Tell me… Have you try Alfajores before? Do you have a special way to have them? maybe with coffee?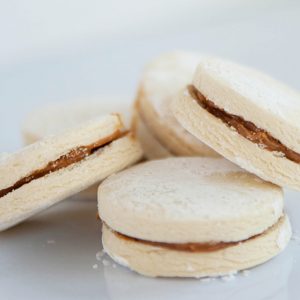 Alfajores recipe
Argentinian cookies filled with dulce de leche
Ingredients
1 1/2

cup

all- purpose flour

1 3/4

cup

corn starch

1

tsp

baking powder

1/4

tsp

baking soda

8

oz

unsalted butter

room temperature

1 1/4

cup

powdered sugar

3

egg yolks

1

tsp

vanilla extract

1

can of dulce de leche

for filling
Instructions
-Pre heat oven 350

– In a medium bowl, sift together flour, cornstarch, baking powder, and baking soda. Set aside.

-In a mixer bowl fitted with the paddle attachment, beat butter and powdered sugar on medium speed until light and fluffy. Beat in egg yolks and vanilla extract just until combined. Reduce speed to low. Add the flour mixture and beat just until combined. Do not over mix.

-Hand Knead a bit to bring the dough together. Roll out until 1/4 inch thick and cut out shapes. Transfer to the prepared baking sheets. Bake for 10-12 minutes until just beginning to look golden, but still pale in color. Cool completely and then fill with dulce de leche
Notes:
For an extra delicious dessert leave some cookies without any filling, serve one cookie, place a layer of dulce de leche and then a tablespoon of dulce de leche Ice Cream.
⌄ Pin It now, Bake it Later ⌄