I had been loving for a long time the floral greenery Baby shower themes. It's a simple, elegant, timeless and kind of an easy theme to find matching things. A dear friend organized and hosted a baby shower for me and she proposed the greenery theme, which of course I loved.
Living far away from your home country makes this type of events kind of hard to celebrate away from your family, and friends. 4 Years ago we had a Long distance baby shower (you can look more about it here) , it was unique, we all felt loved and my little one was celebrated in a different cute way.
This time I'm so blessed to be surrounded with super special friends. Lucky me, they are almost neighbors and we all have kids from the same age.
One of my friends made all the decor, How talented is she?! She made all the flowers from paper using the silhuette. I can't imagine how many hours she worked on this.
They were absolutely beautiful. I will use some of the decor for the nursery ( which I still need to put together 😮 )
Another of my sweetest talented friends who always bakes delicious treats for us, baked a Ciambellone, a simple, sunny Italian tea cake with lemon zest, the recipe is from Smitten Kitchen. It's SO GOOD.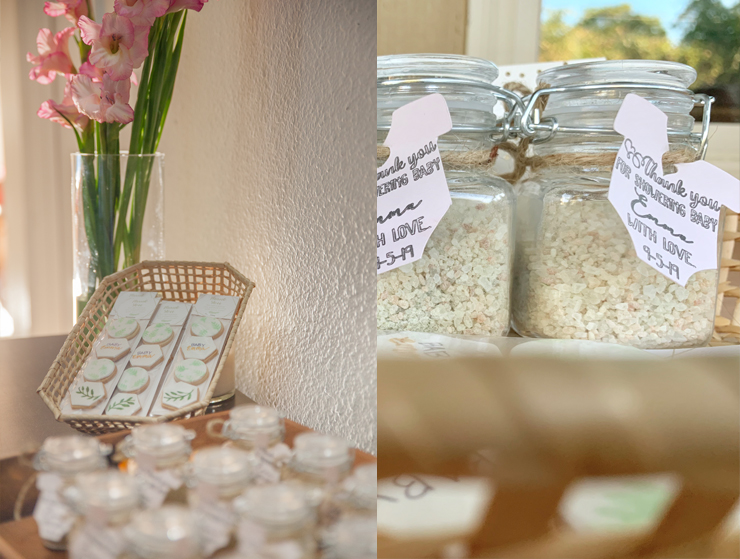 As favors my friend made basil salt from scratch, how amazing is that?! She has been volunteering in a garden were they have a lot of basil so she made this salt with basil from the garden. The other day we made Basil Ice cream and it was SO GOOD! I guess we are huge basil fans now.
One of their wishes was that I didn't make anything for the party and just rest and enjoy the day. But that was a quite challenging thing to asked me. I agreed but I had to make just some cookies as a thank you gesture for them. 
I made lemon mini cookies for them to take home. You can order them on my Etsy shop or website.

I made extra ones to have on the shower. I got quite creative topping some cookies before I baked them with Thyme, lemon zest and sugar. They turned out delicious, not sweet or salty just the perfect combination
The food was so delicious, plates of cheese, figs, salmon, crackers and crepes.   
This day was definitely unique not just because of the baby shower but because I almost didn't make it. I was having really strong contractions that day and I ended up on the hospital but was discharge on time for the baby shower 🙂 So they had already planned to have all the guest wrote an encouraging message in case I couldn't make it on time. I'm really blessed to have such special and lovely friends. This was my breakfast next morning a piece of the amazing Ciambellone, coffee and a stalk of heart warming messages.
⌄ Pin It now, Make it Later ⌄