Just as last year I planned a birthday party with my daughter current favorites things. Her first birthday was all about cats and colorful pit balls, for her second birthday it's all about Mickey, Minnie and farm animals.
I was inspired in classic Mickey and Minnie characters as well as farmer's market designs. Almost all the items were DIY because of the unique theme.
Classic Mickey and Minnie Farm Activities
---
It was a small birthday party so I made hats for the boys with mouse ears and for the girls a Minnie mouse headband. The ears and hat were made with felt and the flower with foam. They were a huge hit, kids and adults really liked them!
Every kid also received a canvas bag to shop their favorite "farm fresh produce"
I made a chicken coop with cardboard box we had, made ballon chickens, and placed white easter eggs all over, so they could fill their egg carton. The egg carton was recycled, I collect them weeks before and just remove the original label and paste a new one.
The chicken balloons looked so adorable! It was one of my favorite DIY's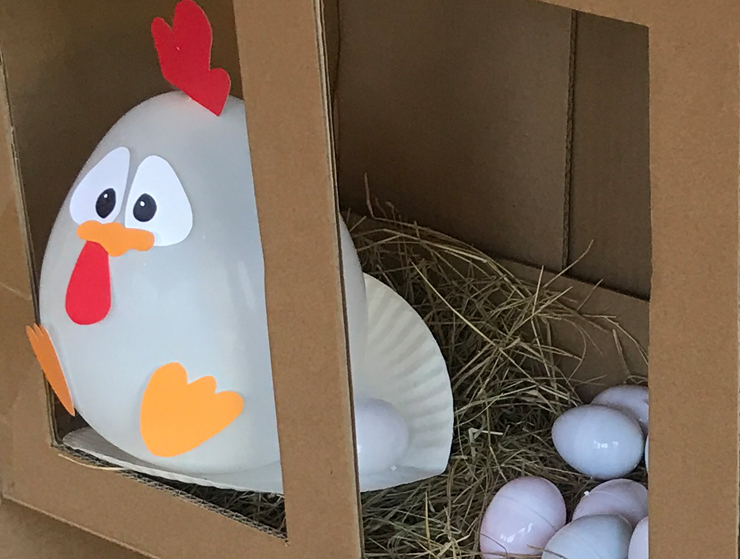 The eggs were filled with Minnie Mouse Farm stickers, bubbles and small bouncing balls.
Her grandpa gave her this radio flyer as a birthday present a few days before the party and it was perfect for "Hayrides"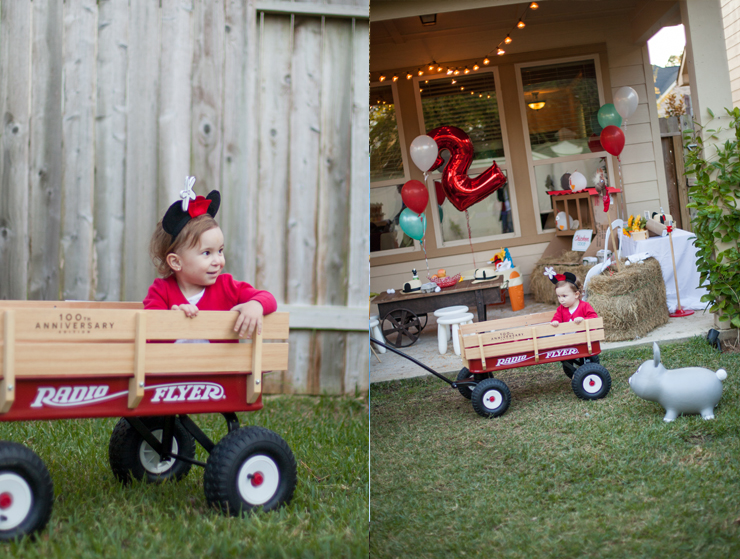 They also had so much fun jumping on the inflatable cow and rabbit bouncer
I think that the favorite of all the kids was the Corn Sensory Table. I filled with corn a water table and placed A mickey Farm play set that a friend gave us, just weeks before the party. They enjoyed playing with the animals, the play set, the corn and of course throwing corn all over the place!
Classic Mickey and Minnie Farm Food
---
I wanted a big sign as part of the backdrop for the dessert table, but didn't wanted to pay a lot at a printing shop. So I printed using 6 letterheaded sheets and paste them on a card board.
The cake was small but I really wanted to make it special. I made a birthday topper resembling my daughter on top of our puppy and squishing one of our cats all of them muddy just as in real life lol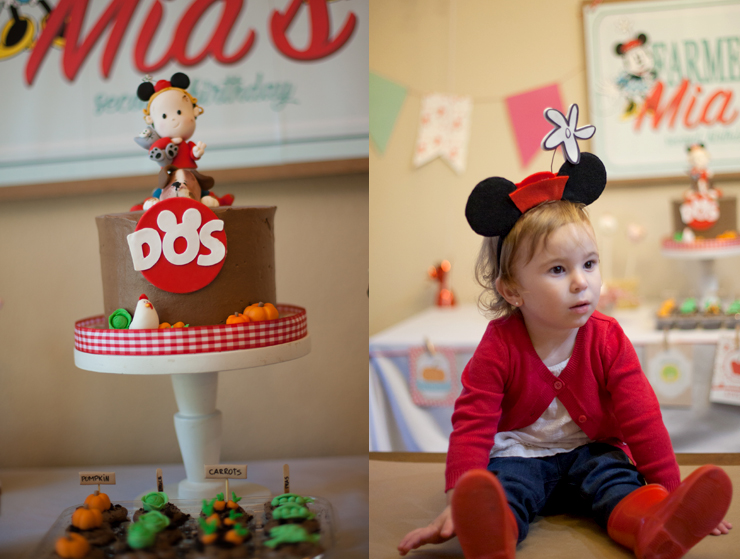 I bought mini chocolate cupcakes and topped them with vegetables, as it was a vegetable patch.
We set up a "Watering Hall" with Vintage Mickey Mouse apple juice and milk.
We served snack resembling carnival food: corn, corn dogs and fries.
Classic Mickey and Minnie Farm Favors
---
We love HEB Read 3 books. They are just one dollar and must of the time they have great books. We were so lucky that they had at the moment we were planning the party Mickey mouse farm sign along books! What were the odds to find that exactly theme?! I was so excited because the book was so fun! so much songs adapted to Mickey mouse.
I Hope you enjoyed reading and learning about Mia's second birthday, if you want more info about a DIY or have any question, leave me a comment and I will be more than happy to help you.
Disclosure: Please note that some of the links in this post are affiliate links, and at no additional cost to you, I will earn a small commission if you decide to make a purchase after clicking through the link. Please understand that I have experienced all of these products and companies, and I recommend them because they are helpful and useful, not because of the small commissions I make if you decide to buy something through my links. Please do not spend any money on these products unless you feel you need them or that they will help you achieve your goals.