I design this free printable because this will be our third year growing sunflowers, and every year we enjoy watching them grow. It has become a spring tradition. Gardening is a great activity to make with your kids and spend time together outdoors.
Sunflowers are one of the easiest flowers to grow with kids, if you are not experienced like me, this is the BEST ONE, besides growing bean stalks. 😂 If you are new to the gardening world, you might find helpful my post about my favorite gardening tools.
Materials to grow a sunflower
-Pots, if not sowing directly.
-Sunflower Seeds
-Potting soil
-Popsicle sticks
-Water can or bottle spray
-Ruler or something to measure
-Growth Tracker
What kind of seed should I buy?​
The seeds you will buy depends on what you are looking for? Do you want them huge? Do you want to cut them and use them as home decor? Not all sunflowers are the same, some will grow really tall, others are compact and ideal for smaller gardens and containers.
Make sure you read the seed package details on the back. If you are looking for big sunflowers buy the "Mammoth"
Another thing I love about sunflowers are their seeds, they are big, so they are easier to handle for kids.
Best time to plant sunflowers is on Spring. Depending where are you located and how is the climate this may vary. They thrive in warmer weather but the optimal temperature is between 70 and 78 degrees. 
Start off by filling the pots about two thirds full, then poking a little hole in the middle. Pop a few seeds into your hands and let your kids pick and drop one seed into each hole. Cover the seed with more potting soil. Water the seed, you want to keep the soil moist in the germination process. Place them in a sunny area, they need a lot of direct sunlight.
Sowing is ok if the soil temperature is about 55 to 60 degrees Fahrenheit. Plant the seeds 1 inch deep and 6 inches apart in a sunny area. Water after planting and keep the soil moist throughout the germination period.
Tracking Sunflowers Growth
Label each sunflower to be able to keep a track on each one. You can label with your kids name to make it more fun or competitive if they can handle that. Download and print the Tracking growth at the end of this post. 
Measure and write their growth every 5 days. Your kids will be really excited to see how much they have grown.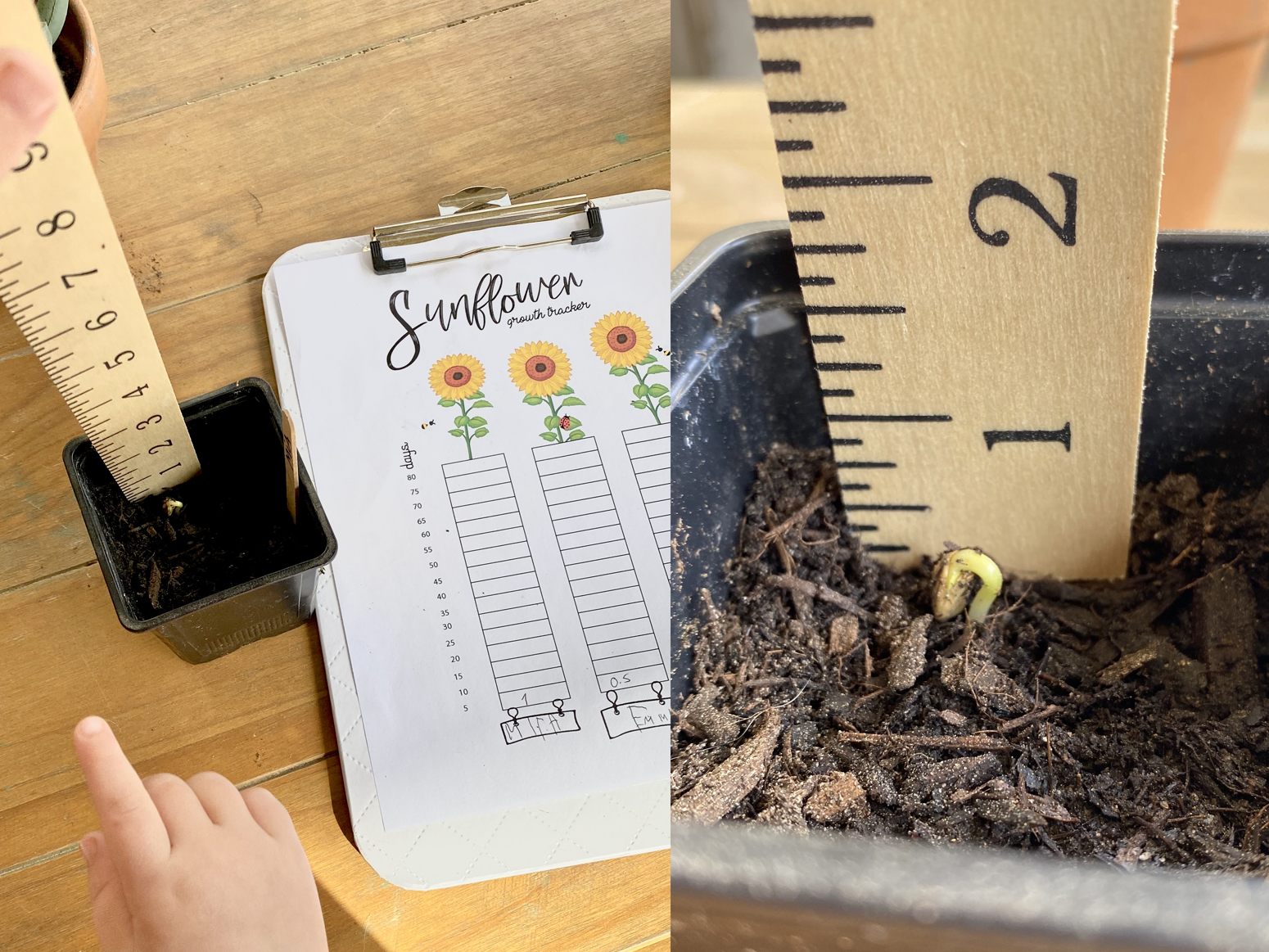 Sunflowers usually take about 7 to 10 days to germinate.
Transfer the plants to bigger pots or to your garden as they grow. If they are 3 inches tall is a good time to transfer them to your garden.
I like growing sunflowers because they are great for bees and other pollinating insects, and birds love to eat the seeds.
Sunflowers usually take about:
1-10 days to germinate,  60 days to grow and you will see the sunflowers open in about 70-80 days.