I love shopping at Whole foods, it's not our to go grocery store, but every time we go, we buy different and unique things, specially chocolate, it seems that every time I go, I pick a chocolate bar.
Yesterday we had a little play date with Mia at Whole foods, both of us got spoiled… First we went to story time which she didn't seem to be too interested, but after two books she really have fun with other toddlers, we colored two coloring pages and we had a snack, I think this is great place to interact with other toddlers.
That morning, before we headed to story time, I tried this new yogurt, which I chose honestly because of the package (what can I do? I'm a graphic designer) I loved it, the yogurt was really good! Each package has a written message, and mine was "buy yourself flowers" how awesome is that?! And Yes! Now I love even more this yogurt! So, after story time we started exploring and I chose the flowers I liked the most, orange tulips, without knowing that they smelled heavenly.
When I brought them home Cris asked me why does the house smell like honey, and then we smell the flowers and I fall in love, the smell is so strong that it seems that someone emptied a bottle of honey on the tulips! This is my favorite flower from now one by far! Seriously you need to smell this tulips, I think they are called double tulips.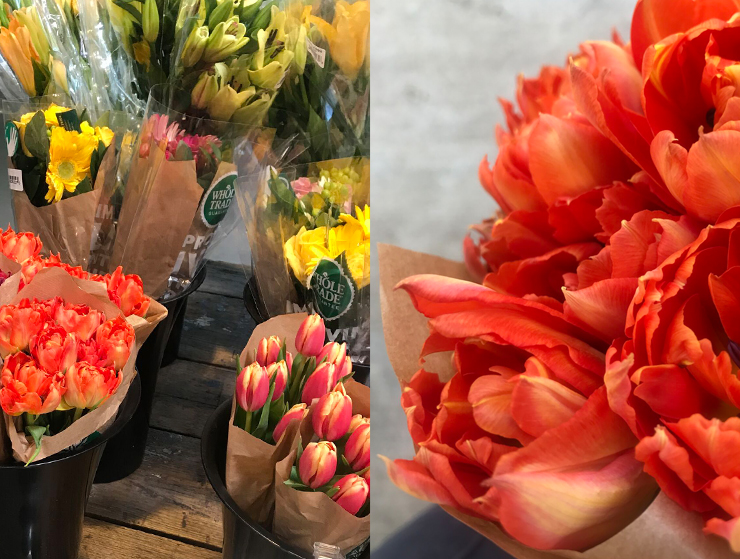 I also bought a chili chocolate, I did not know what to expect, but when I tried I really did not like it. Cristian also tried it and did not like it either, couple of days went by and Cristian told me to try it again but this time he told me to start chewing and swallowing down quickly and it was a completely different taste, we really liked it this time! If some day you get a chocolate and you don't like the taste try chewing it really fast, it might be a new technique we just discover 🙂
And lastly I got a book for Mia. Every night we read a book, or two or five or ten with a little camping light or flash light and after we read we start making shadow puppets with our hands. As soon as I saw this book had a flash light I knew Mia would love it, it is really nice because it shows how a kid is hiding inside a monster or ghost, so hopefully this will get her ready for Halloween.